Titanium Flattened Expanded Diamond Mesh Foil Net Grill for Battery Hydrogen Electrode and Oxygen Electrode Sheet
Flattened titanium mesh is supplied in sheet metal or micro hole foils. Titanium mesh is made from TA1 titanium foil, with a purity of over 99.6%. The mesh sheet width can be 100 100 mm, supplied in slitted pieces or rimmed mesh foils. The mesh thickness ranges from 0.1 to 0.25mm at allowed difference of ± 0.01 mm. Surface density: 150 ± 10g / m. Tensile strength is ≤5㎏. Standard opening: 0.75 * 1.25MM.
Flattened titanium diamond mesh has smooth surface, diamond holes, no oil, non-oxidation, no broken wires, no burrs or arc shape.
Suitable for battery making, used for hydrogen electrode, oxygen electrode and super capacitors for proton exchange membrane fuel cells.
Titanium mesh is not as popular as expanded steel or aluminum, it is especially suitable for filtration in the condition of strong acid and alkali environment and electrode in the chemical industry, environmental industry, electroplating industry, battery industry. The jointless continuity structure of expanded stretched sheet makes it a highly efficient conductor sheet of electricity, magnetic flux and heat used as battery nets.
Titanium Flattened Expanded Metal:
LWO-.325in
SWO-.150in
Strand Thickness-.035in
Strand Width-.055in
| | | | | |
| --- | --- | --- | --- | --- |
| SL.No | DESCRIPTION OF THE ITEM WITH SPECIFICATIONS | THICKNESS | PURITY | SIZE |
| 1 | TITANIUM METAL FOIL | 0.05±0.005MM | 99.95% min | 350 mmx |
| 2 | TITANIUM EXPANDED MESH | 0.05±0.005MM | 99.95% min | 150mm width(min) roll |
| | MESH dimensions: | - | | |
| | Length wise dim : 1.00mm; | - | | |
| | Side wise dim : 0.070mm; | | | |
| | Strand width : 0.2mm | | | |
| | Strand thickness : 0.15mm | | | |
Titanium Expanded Metal Battery Net( Drawing Attached )

Spec -1002
Thickness : 1.5mm
Size : 500mm X 200 mm

Titanium wire mesh is mainly used for filtration in the condition of strong acid and alkali environment and electrode in the chemical industry and cell making industries.
Specification of Titanium wire mesh used in battery:
Material: TA1,TA2,TA3,titanium foil, titanium panel
Production process: stamping or expanding
Mesh hole pattern: diamond,triangle,similar hexagonal
Diamond Opening Titanium Expanded Mesh Hole Sizes: 0.3X0.6mm, 0.6X1.2mm, 1X2mm,1.5X2mm,1.5X3mm,2X3mm, 2X4mm, 3X6mm, 4X8mm, 5X10mm, 6X12mm, 8x16mm, 10x20mm, 15x30mm, and so on.
Mesh thickness: 0.04mm-5mm
Mesh width: 5mm-1000mm
Surface treatment:platinum coated,silver coated,iridium coated,ruthenium coated etc
Flattended Titanium Filter Mesh with Rhombic Holes:


Titanium Plate/sheet thickness: 0.3-2mm

Mesh Size: Thickness:0.5mm-2.5mm
Width: 50-1200mm
Length: 50-2400mm
Shape: Flat or In coil

Mesh shape : rhombus
Mesh size : 3*2mm 3*4mm 3*6mm 4*8mm 4.5*12.5mm

Technics: Titanium plate/sheet-------Punching--------Pulling------Anneal(Leveling)-----Acid-Washing

Advantage of titanium mesh:
1.High corrosion resistance
2.Light weight
3.High strength

Base Materials: titanium Plate
Thickness 0.3mm-2.0mm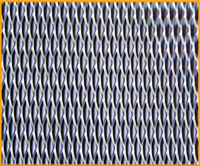 Diamond hole titanium mesh has light weight, high strength, heat resistance, corrosion resistance and other characteristics. Titanium and its alloys have very important applications not only in aviation, astronautics industry, and in the chemical, petroleum, light industry, metallurgy, power generation and other widely used in many industrial applications.