Expanded Metal Mesh Sheets in Aluminum or Steel, for Architecture Ceiling, Cladding, Facade, Partition
PuRuiSe supplies a wide range of decorative styles stretched and expanded mesh in aluminium, anodized aluminum, stainless steel, copper, brass and galvanized steel materials. Aluminum and other Metal Alloy Decorative Expanded Mesh finds extensieve uses in outdoor building curtain walls, facade cladding, indoor ceiling and wall cladding projecs. Punched and stretched, the metal mesh sheets are sturdy and durable with elegant appearance.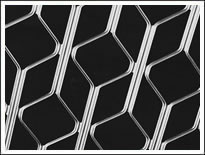 Expanded mesh has a wide choices of decorative metal surfaces treatment to meet architectural design needs: Multi-color PVC coated, sprayed, plastic-coated, hot-dipped galvanized, electro galvanized, anodized, copper, brass, ss finish and more.

The decorative expanded metal plates can also be used for making of furniture, decorative railings, window screening.

Features:
Expanded metal decorative mesh is pressed of metal sheet that will not unravel, thus retaining its shape after years of constant use. It enjoy lightweight, good strength, rigidity, free passage of air, light, heat, sound and adaptability to finishing processes plus functional attractiveness.

Material:
Carbon steel sheet, hot galvanized plate, stainless steel sheet, copper sheet , titanium, nickel, aluminum, aluminum alloy panels.

Aluminium Architectural Mesh of Stretched Diamond Hole Patterns, Used as Metal Mesh Curtains and Sunshade Screen in Modern Buildings.
Specially designed expanded metal for use in architectural and decorative applications. The aluminium mesh flattened can be used to provide privacy and to control light and air while allowing visibility as sunshade screens, room dividers, and building facades are only a few of the possible design possibilities.
Decorative Aluminum Stretched Mesh Panels for Building Facade: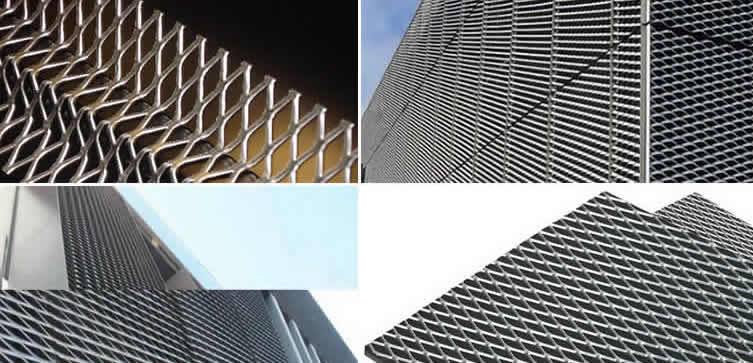 Anodized and Powder Painted Aluminum Ceiling Sheet Expanded Metal For Building Decoration:
Material: Aluminum, Aluminum Alloy etc.
Surface Treatment: For aluminum material: Anodized finish, Powder coated, PVDF, Without treatment.


Hot Diped Galvanized Expanded Metal Decorative Mesh Panel: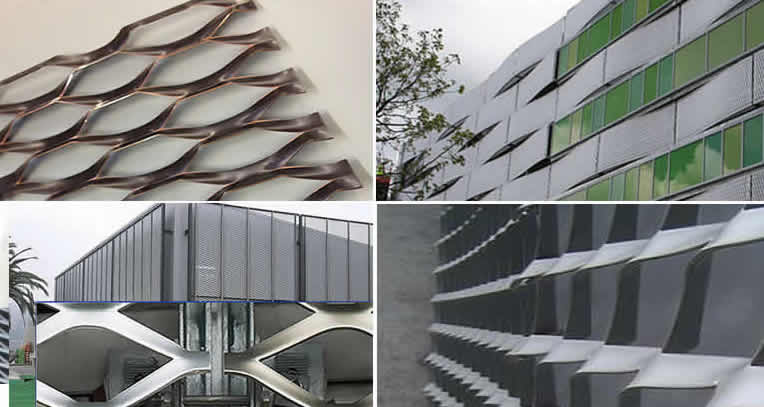 Hole Shape:Diamond, square hole, scale hole. The surface include electric galvanized, hot galvanized or pvc coated.
Expanded steel plate and stainless steel plate. Opening shape: diamond, square, round, triangle and scale-like opening.
PuRuiSe supplies Metal Sheet Architectural Mesh with the specifications below:
Width: maximum up to 3M.
Thickness:For Aluminum,maximum up to 12mm
For steel,maximum up to 14mm
Aperture size 2mm × 1mm ---300mm × 120mm.
Stem width: 0.5mm--50mm.