Expanded Metal Ceiling Decorative Panels
Expanded metal ceilings are ideal for architectural and modern building designs, both interior and exterior. Expanded mesh ceilings feature light weight, good air flow, light flow, decorative hole pattern and easy installation. Using of modular expanded metal cladding tiles render easy installation and maintenance of the ceiling construction.

The metal mesh cladding sheet is popularly used in architectural ceiling projects where easy maintenance and assembly is required for certain facilities, such as:
Insulation system;
Ducting;
Tele cable;
Pipes;
Lighting;
Air system;
Computer networks;
etc.
Finishes options:
Galvanized ( Electro and hot dipped galvanized for carbon steel plate)
Anodized (colour can be customized) for aluminum
Powder coated or spray painted for aluminum and steel
Hole shape applied:
Heavy hexagonal expanded sheet
Diamond shaped expanded sheet
Special expanding
Benefits:
Uniform of strength and property: the mesh is formed from a single piece of metal
Environment friendly: no wasteful of material
High strength: expanded metal has higher strength to weight ration
Light weight and good rigidity
Screening: Effective light permeation
Good air flow
Good resistance to corrosion
Module panels or custom designs for mesh, frame, sizes

Expanded Metal Ceiling in Galvanized Steel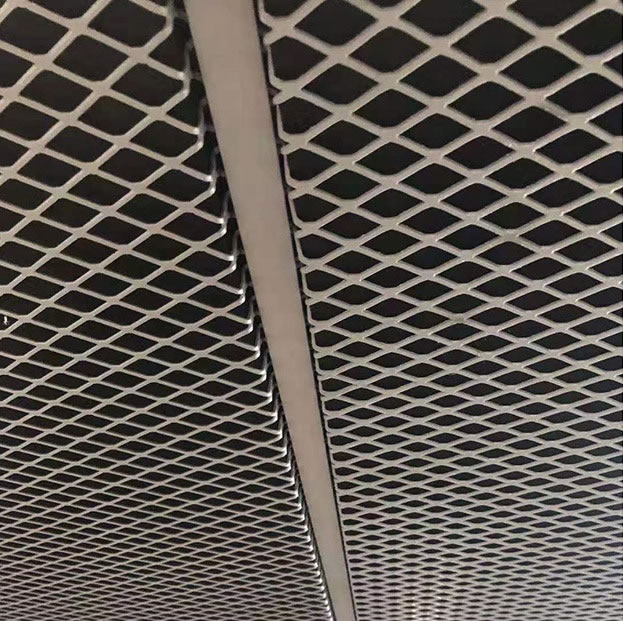 Exported to European countries
In rolls in size 630 x 630 mm
Material: Galvanized steel expanded sheet
Shape: Dimond shaped flat sheet
Technical details, pls refer to drawings.


Expanded Metal Ceiling in Aluminum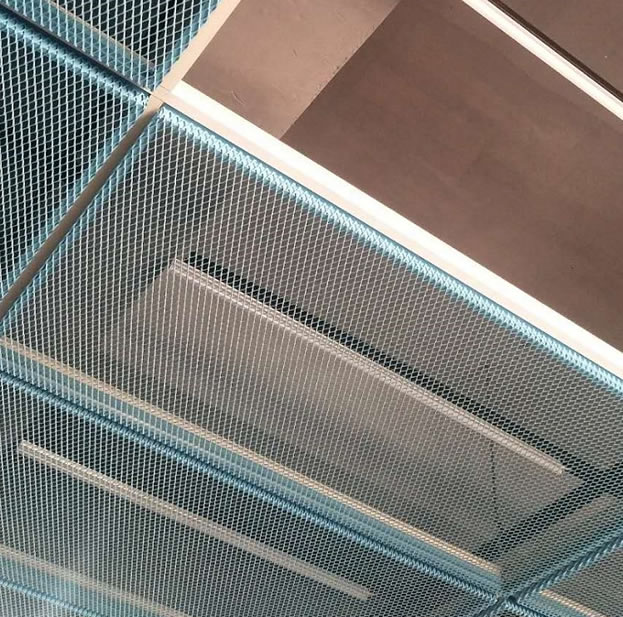 Suspended ceiling tile
In rolls in size 630 x 630 mm
Material: Unpainted aluminum expanded mesh
Mesh shape: Flattended diamond
Technical details, pls refer to drawings
Lay-in Ceiling Tiles in Aluminum, Hexagonal hole sheet, with or without Powder Coating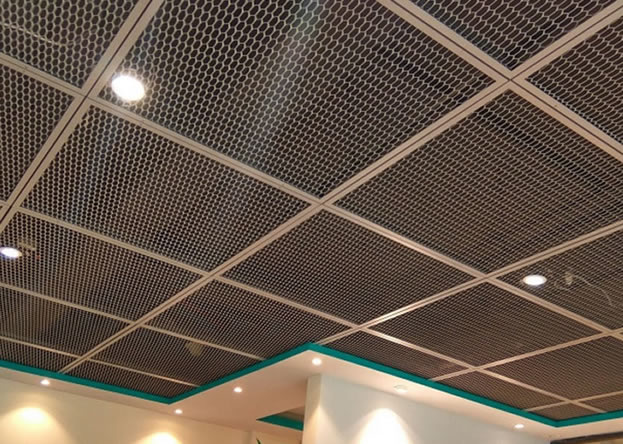 Aluminum Metal Ceiling Lay-In Tiles provide easy access by lifting and tilting the ceiling tiles, ideal for architectural designs
Material: Expanded aluminum anodized finish
Hole shape: Hexagon