Established China Manufacturer and Exporter of Expanded Metal Sheets from Standard Flattened Diamond Mesh to Raised Heavy Hexagonal Mesh Patterns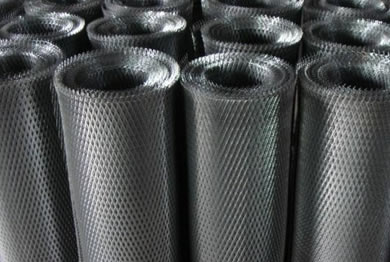 PuRuiSe offers mainly FIVE categories of expanded metal products:
- Standard Flattened Diamond Mesh
- Heavy Raised Grating Panels
- Decorative Architectural Mesh
- Micro Hole Thin Foil Filter Screen
- Expanded Metal Processed Building Products.
Read More About Us
Manufactured by passing the standard expanded sheet through a cold-roll reducing mill. The metal sheets are slit and stretched with each stroke of the upper die, forming a uniform diamond pattern. Stretched metal mesh has flat neat surface with no burrs. The stretched metal sheet ( black steel or galvanized steel) is available with different hole apertures and sheet thicknesses for construction of fencing system, ventilation sheet or wall cladding decoration uses.
Features:
It is easily processing, has uniform stretched holes and has versatile applications.
Flat metal mesh sheet offers high rigidity in a variety of sizes and weights. The angles of the diamond strands allow maximum air circulation and distribute stress on the metal to supporting frames. The galvanized steel and black steel expanded diamond mesh is the most versatile expanded sheet materials. It can be made with different hole apertures and metal thicknesses to suit specific individual applications.
Uses: Standard Diamond Mesh fabricated from low carbon steel plates is ideal for use wherever a strong, durable, lightweight surface is needed, some of typical uses as following:
• Sunshade and Ventilation Screening effect - light and vision can be controlled
• Processed in forms of angle beads or corner beads. Working as A reinforcing agent - in concrete, plaster and wall buildings.
• Heat conduction and diffusion sheet - for grills and high temperature processing
• Security and safety - for fencing, cages and enclosures, machine guarding, shielding panels
• Architectural Cladding Panels - for protection and decoration of roof, wall, facade and interior and exterior partitions.
Photo Illustrations:
| | | | | |
| --- | --- | --- | --- | --- |
| | | | | |
| Standard Diamond Pattern Expanded Metal in Aluminum | Flattened Expanded Metal | Stretched Rhobmic Opening Metal Vent Screening Grill | Expanded Steel Diamond Mesh Fencing | PVC Coated Expanded Metal Mesh Fence for Temporary Control Barrier Uses |
Heavy Type and Raised Metal Mesh Expanded Sheet, Mainly for Industrial Grating Flooring, Step Treads, Decking, Partitions and Platform Construction
Heavy Expanded Metal refers to the metal sheets with thick sheet and strands, raised strong patterns of hexagonal or other close holes with big loading capacity and strength compared with Standard Diamond Mesh. Mild steel expanded mesh panels are slit and stretched with each stroke of the upper die, forming a raised pattern. The raised steel mesh is used for fencing of plants and machines with its good strength and protection. The raised pattern also gives the sheet metal non-slippery surface which makes it suitable for industrial flooring and stair treads.
The heavy expanded metal is popularly used as steel fencing and machine guarding, industrial floor gratings, stair treads, trench covers, architectural partitions and building materials.

Compared with corrugated bar grating or welded steel grating, Expanded metal steel mesh as floorings have the following benefits:
Much easier to cut and fold;
Flat surface and strong surface with No weld seams;
Not limited to fixed grid dimensions;
Large selection of mesh sizes and styles;
Free cross-section selectable.

Photos Illustrations:
Heavy Expanded Mesh Patterns
Raised Steel Galvanized Grating for Platform Decking Uses

Expanded metal can be used as alternative materials to various knitted and woven wire fabrics in architectural designs. Functionally, and aesthetically, expanded metal architectural mesh allows subsequent operations, e.g. folding. Colored coatings are also possible, including Galvanized, Silver, Brass, Copper, Aluminum, Gold and other Alloys.
PuRuiSe supplies a wide range of decorative styles. Our decorative expanded metal products can be found in furniture, railings and architectural mesh panels.


Features:
Decorative mesh, like standard expanded metal, is made of metal which won't unravel, thus retaining its shape after years of constant use. The same properties making standard expanded metals so applicable to today's needs — lightweight, strength, rigidity, free passage of air, light, heat, sound and adaptability to finishing processes are also present in decorative expanded metals plus functional attractiveness.

Uses:
Facade Screen;
Shade and Vent Screen;
Decorative Grille;
Roof Ceiling Acoustic Panels;
Wall Decorative Cladding Screen;
Furniture Making;
Decorative Railings and Fencing.


Decorative Pattern Architectural Metal Mesh Cladding Panels

Aluminum Exterior Wall Cladding Screen Panels

Anti-Corrosion 304 Grade Stainless Steel Mesh Facade Decoration Screen
Expanded Metal Foil Mesh with Ultra Micro Holes and Thin Sheet, for Battery Grid, Shielding Acoustic Screen and Filter Uses
PuRuiSe supplies full range of expanded metal mesh and foils: including aluminium, pre-galvanised mild steel, mild steel hot rolled and cold rolled, stainless steel, zintec, monel, titanium, brass, copper, and gold, silver and platinum.
We supply micron opening expanded mesh sheet for new fields of applications such as battery diffusion, filters and screening, etc.
Photos Illustration:
| | | | |
| --- | --- | --- | --- |
| | | | |
| | | | Aluminum Foil Mesh Microphone Shielding Screen |
Angle Bead and Rib Lath: Expanded Metal Processed for Construction Building Materials
Processed expanded metal sheet products in forms of angle beads, corner beads, rib lath.

Main equipment in Expanded Metal Processing:
Expanding Press, Flattening Machine and Shearing / Slit Machine.

Expanding Machine
General Technical Information about PuRuiSe Expanded Metals:
Different expanded patterns give the metal various strength, opening area and property. So tell us your application will help us to offer you a better choice of our products. Typical patterns include Diamond, square, triangle and etc. A wide range of apertures can be custom made by expanding and raising of metal sheets.
Materials:
We mainly offer expanded steel metal with the finish treatment of galvanizing. This is the most economic expanded metal products. Expanded mesh can be also processed from stainless steel, aluminum, nickel and other metals.
Expanded metal can be used in construction of fencing and guarding panels, industrial flooring and decks, architectural design, filtering and other uses. The sheet metal materials can be processed into various building materials like angle bead and metal lath used for construction of walls.
We also supply expanders, flatteners, slitters, roll formers and full production line for making of expanded metals.
Common Specifications:
Sheet thickness:0.5mm-8mm
Hole width: 2.5mm-50mm
Hole length: 4.5mm-100mm
Opening Expanded: 0.5mm-8mm
Special designs or sizes are also available at requests.

Benefits of Expanded and Stretched Metal Mesh Compared with Woven Wire Mesh:

Greater stability of structure;
Homogeneous surface;
No loose wire ends;
Cheaper;